Edomoji (江戸文字)
This general term covers many Japanese lettering styles which were invented mostly for advertising purposes in the Edo period. For example,
Kanteiryū
Kanteiryuu (勘亭流)

This style is strongly associated with arts like

kabuki

and

rakugo

.
Yosemoji
Yosemoji (寄席文字)

The name

yosemoji

literally means "letters to draw in customers".
Kagomoji
Kagomoji (篭文字)

This name literally means "cage letters". The font is thick and square in shape.
Higemoji
Higemoji (髭文字)

These characters have little "whiskers" on them.
Sumō moji
Sumō moji (相撲文字)

This style is the one used for sumo wrestling posters.
Chōchin moji
Chōchin moji (提灯文字)

These characters are the ones used on chōchin, hanging paper lanterns, such as the ones you might see outside a yakitori stand in Japan.
Kakuji
Kakuji (角字)

This very heavy, rectangular style is used for making seals.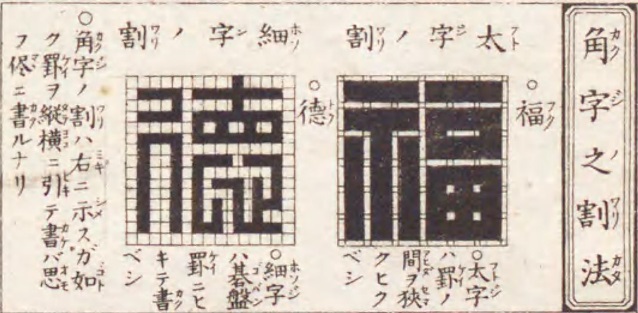 Formation of kakuji, from Genkon Jidō Jūhōki (現今児童重宝記), published in 1886
---
Copyright © 1994-2016 Ben Bullock
If you have questions, corrections, or comments, please contact Ben Bullock or use the discussion forum / Privacy