How can I say "I love you" in Japanese?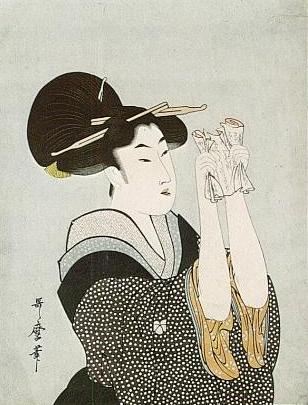 Courtesan reading a love letter
by Utamaro
In dictionaries "love" may be given as aisuru (愛する). Ai shite iru (愛している) may be how "I love you" is translated in foreign films, but this phrase is not really used much in normal Japanese speech.
There have been two traditional answers for how to say "I love you".
You don't. (you don't say it; you show it.)
Various forms such as

suki (

好き

);
daisuki (

大好き

);
suki da yo (

好きだよ

);
suki desu (

好きです

);
ai shite ru yo (

愛してるよ

);
kimi ni muchuu da (

君に夢中だ

).

Dialect versions include

suki yanen

;

horetennen

;

gottsuu suiterunen

;

oshitai shiteimasu

.
Words for lover include koibito (恋人) "girl/boyfriend", kareshi (彼氏), "boyfriend", kanojo (彼女) "girlfriend". Koibumi (恋文) means "love letter". Katakana raburetaa (ラブレター) is also used. Other words for love are kesou-suru (懸想する), shibo-suru (思慕する), renbo-suru (恋慕する), and ren-ai (恋愛).
Acknowledgements
Edited from posts by Tanaka Tomoyuki.
---
Copyright © 1994-2018 Ben Bullock
If you have questions, corrections, or comments, please contact Ben Bullock or use the discussion forum / Privacy